Once you decide to give your product idea a real vision, the next question ahead of you would be what to choose from in-house software development vs outsourcing.
In-house software development is utilizing the expertise of your internal team to develop software. Whereas collaborating with a third-party source to build is known as outsourcing.
Before choosing one between them, you should carefully weigh the advantages and disadvantages of each methodology. It is important to consider a variety of factors, including a budget, competence, and communication.
New businesses are preferring to outsource talent instead of spending months building an in-house team. The outsourcing software development market is projected to grow by $98 billion by 2024. Why outsourcing is better than developing software from scratch?
Also Read: Best Software Development Companies in Berlin – How to find one
Let's take a closer look at pros and cons of in-house software development vs outsourcing.
What is in-house software development?
In-house software development simply refers to creating software with the help of a team at your company. You don't receive any outside assistance; all the developers work for you as your employees and complete their given tasks.
If you do not already have a team, this is a lengthy process from job posting to hiring qualified people. Here, you must invest money and time in assembling a team of experts required to design a solid foundation for software development.
An In-house team works under your supervision, strictly on the tasks allocated to them, and under your company's culture, mission, and vision.
For example, Amazon and Google have in-house software development teams to build and improve their product.
Let's understand the pros and cons of in-house software development.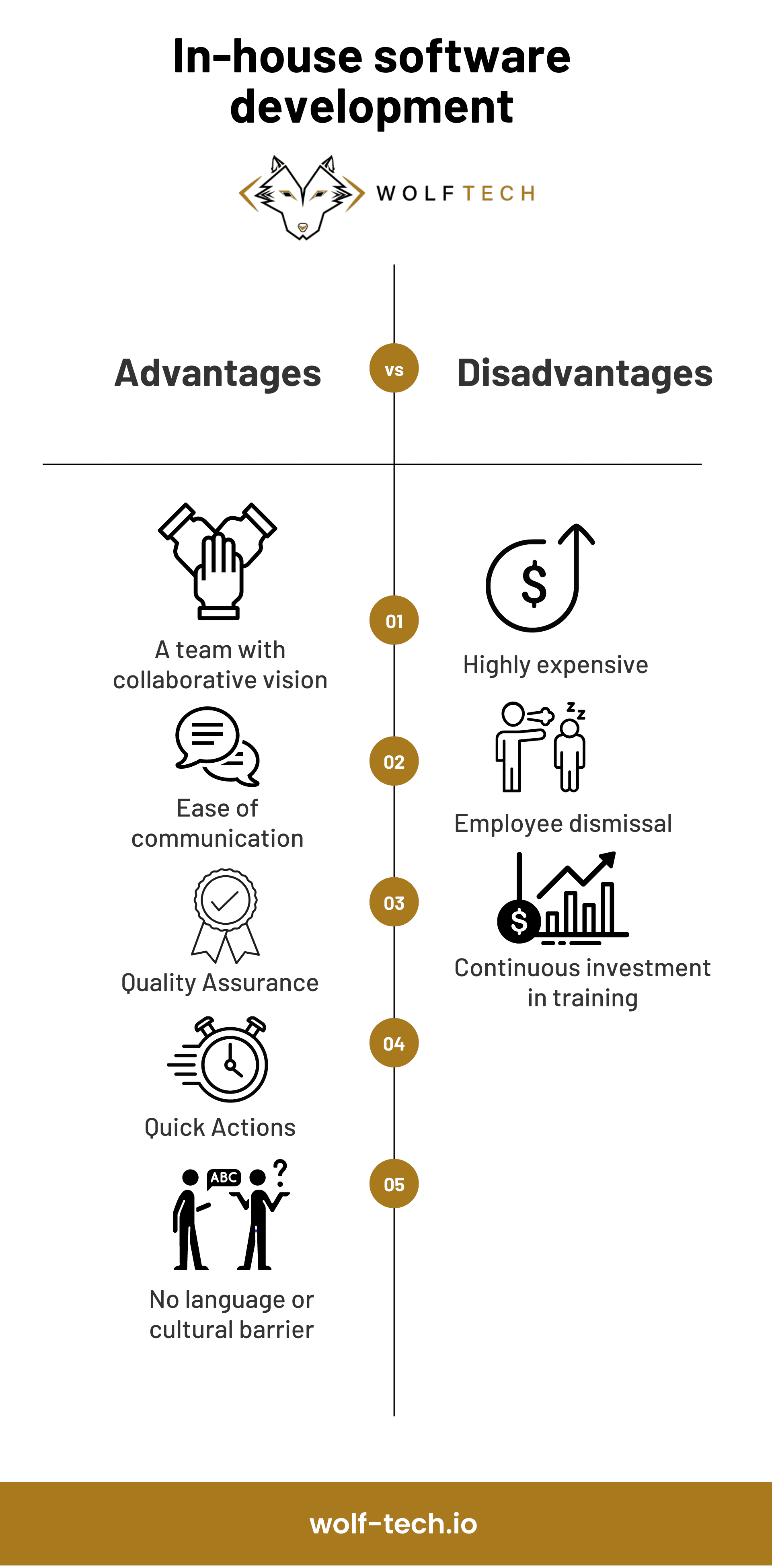 What are the advantages of in-house software development?
There are several significant advantages to in-house development, including:
1. A team with a collaborative vision
A team fueled with the company's basic principles, vision and ethics drive a successful business. With in-house development, you have the option of selecting team members that fit your company's culture.
They will work towards a single vision to give better outcomes, something you won't get if you outsource the development team.
2. Ease of communication
The ability to communicate directly is a clear advantage of having an in-house team. An in-house workforce that is completely dedicated to your firm and often works in a physical location.
There is no need to send emails back and forth to get your idea across to the team. Having face-to-face access speeds up discussions, especially when it comes to finalizing project needs.
This can also be implemented in outsourcing if the team is collaborative, experienced, and correctly set up. For example, when working on a project with us at Wolf-Tech, we ensure that a regular interaction is setup with you and your team to share updates and exchange thoughts.
3. Quality Assurance
It is easier to enforce QA standards with an in-house team. Having all your developers and team members under one roof simplifies monitoring the quality of projects. In-house development also allows you to keep track of compliance.
4. Quick Actions
An in-house team of software engineers may swiftly update project features, create new ones, and thoroughly evaluate their technical foundation. Internal teams also deal with issues and errors more quickly.
5. No language or cultural barrier
An in-house team will be a group of professionals from the same country/city as you, with similar cultures and backgrounds. Therefore, there will be fewer borders and constraints, face-to-face discussions, and a clearer understanding of what should be done.
What are the disadvantages of in-house software development?
If in-house development were the ideal solution, outsourcing wouldn't be as common as it is now, hence the following are some of the disadvantages of in-house software development:
1. Highly expensive
In the beginning, a lot of money needs to be committed to hiring employees, software licenses, hardware equipment, etc. Payscale reports that the US average compensation for an IT developer is $71,508.
That doesn't include the hidden costs of sick leave, vacation, insurance, social security, recruiting, and onboarding each new employee. Even if the team is idle between projects, you must nevertheless cover their fixed salaries.
2. Employee dismissal
Due to the high demand for competent developers in the market, it is normal for them to move employment frequently. Once you have committed substantial money to onboard, they may leave, and you will need to invest in new team members again.
3. Continuous investment in training
With the introduction of new technology, tools, and languages, the IT industry is always changing. As a result, you must guarantee that your team stays up with these developments. You may need to constantly invest in training and courses, which might be costly.
What is Outsourcing?
In Outsourcing software development, you assign the process of developing a product to an agency that is accountable for the complete development of the product. You will present your requirements to the project manager here. They will examine your needs and provide a cost and delivery estimate.
A contractual agreement will be formed if you both agree to all the terms. Throughout the project development cycle, the manager will act as a point of contact.
On similar lines, you can know more about the process that we follow at Wolf-Tech when we take up any project.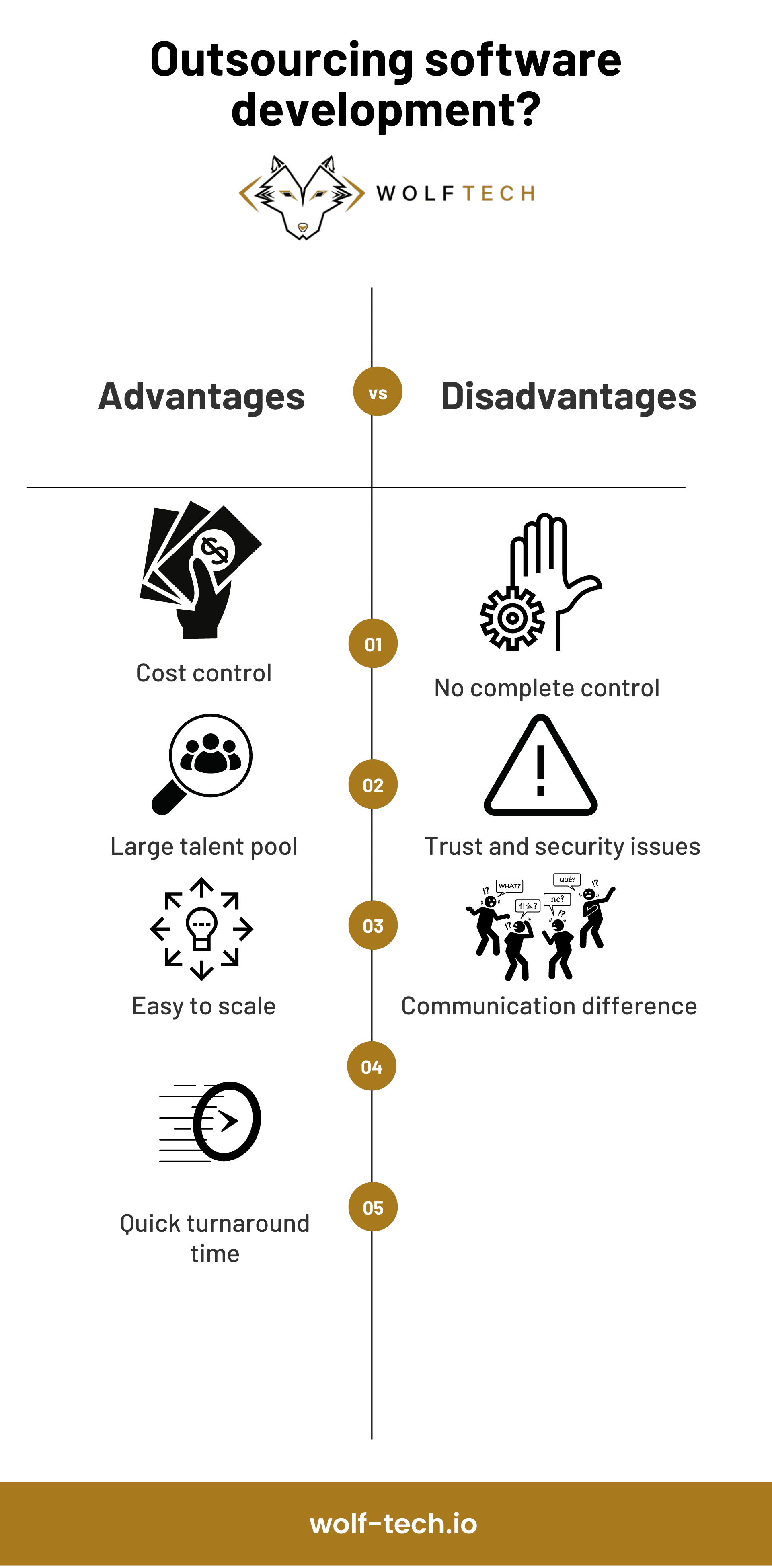 What are the advantages of outsourcing software development?
There are several advantages to choosing to outsource over in-house software development. Some of them are:
1. Cost control
The cost of outsourcing is more affordable compared to in-house software development. If you operate in a location where local talent is expensive, you will benefit from outsourcing irrespective of where the outsourced company is based. You can hire an IT business that has the expertise in your area, be it wherever they might be based.
Additionally, outsourcing eliminates the need for additional expenses like office space, software, hardware, insurance, training, recruitment bonuses, etc.
2. Large talent pool
While outsourcing, you are no longer limited to a small talent pool. There is such a vast worldwide talent pool to choose from and you won't have to waste time reading through dozens of resumes to find a suitable candidate.
Basically, you can hire the best experts of the world to work on your project without being limited to a small team.
3. Easy to scale
In outsourcing, without having to hire or fire anyone, you may scale the team up or down as needed and much more quickly than with internal staff. Scaling like this will not harm your company's reputation or reflect adversely on you as an employer.
If your product has a variety of requirements, the outsourcing firm you engaged can also quickly scale the teams up or down to meet those demands.
4. Quick turnaround time
The ability to execute a project on schedule is one of the main advantages of outsourcing software development services. According to the specifications, the hired agency will assign the resources and make every effort to complete the project as quickly as possible.
What are the disadvantages of outsourcing software development?
Outsourcing started as an alternative to in-house software development. However, there is no perfect solution to anything, it would be good for you to consider the following drawbacks before choosing to outsource:
1. No complete control
An outsourced agency does not only work on your project. They have other projects too. As a result, you have little influence over how things grow, advance, and are resolved.
You might not be aware of project developments if you don't have direct contact with the team. Your communications may not be answered right away, and bug fixes may take many hours or even days. Although, this will not be an issue if you partner with a good and reputed IT agency.
2. Trust and security issues
You provide third-party developer access to confidential data when you outsource. You could be concerned about the privacy practices of the agency and whether it will ever accept proposals from rivals. To legally safeguard your interests, it is crucial to investigate the agency's past performance and sign an NDA.
Make sure that you and the other party can both agree on the reporting, acknowledgment, and meeting times. Usually, outsourcing agencies work on robust security and privacy terms. So you do not need to worry about it too much.
3. Communication difference
Scheduling a meeting with an agency that is based elsewhere can be challenging due to the time zone difference. It may also be a language barrier or a difference in the cultures of the two organizations. This won't be a big issue if the company is good and eager to help.
What to choose: In-house software development vs outsourcing?
Now we know what are the advantages and disadvantages of In-house software development and Outsourcing.
So, which one to choose from In-house software development vs outsourcing?
You should choose outsourcing software development when:
You're on a limited budget. Outsourcing gives you more cash flow freedom. The obligation of salary does not bind you.
You cannot find the right talent. It will be better to hire an agency to work on your product than invest months in hiring and training.
You are on a tight deadline. If you have never developed software before, frequent challenges could come as a surprise to you. You can't afford delays when you have a deadline to meet, but they can be avoided if you work with a skilled IT vendor.
You should choose in-house software development when:
You want full control of your product development cycle. All decisions affecting the development of the product are ones you make with your team.
Budget is not a constraint. If you have enough money to invest in your digital footprints. Then hiring an internal team will have numerous advantages.
Conclusion
The article must have given you a clear idea of why outsourcing is better than developing software from scratch. But the argument between In-house software development vs outsourcing cannot be resolved completely. What might be effective for one business might not be for another.
So how to choose from in-house software development vs outsourcing software development? You must consider your resources, goals, requirements, and timeline. Depending on your needs, you may choose one.
For any of your web development or software development requirements, feel free to connect with us at Wolf-Tech now.